The installation of a new hardwood floor will most likely leave you with some leftover wood, and you might be wondering how you can put these planks to use (especially with what you paid for them). You can easily make just about any wooden object using repurposed wood, but to make something exquisite, two important factors need to combine. Your woodworking skills should be decent since even the least complicated wooden items need a little understanding and knowledge of how to manipulate, glue, and finish wood. You also need the vision and creativity necessary to imagine possible outcomes of using your old planks. Listed below are some recycled wood projects to try, assuming you have the necessary know-how and creativity.
Reface your cabinets
You can use recycled wood to clad your bathroom or kitchen cabinets, which is arguably one of the most effective ways of repurposing wood. You can create varying effects and appearances depending on the amount of timber available. Using the recycled wood throughout creates a rustic look while using it in parts develops a rather laid-back but modern feel. The resultant overall style of your space will be affected to some extent by the nature and type of reclaimed wood you use.
Create a feature wall
Reclaimed hardwood can also be used to create feature walls, where keeping the cladding to merely a single focus wall is key. You can use the most aesthetically pleasing pieces of wood to add a little texture to the wall. Recycled wood feature walls work well with minimalist, rustic and urban loft themes with how you end up matching your furniture to the wooden feature wall making the difference.
Make wooden decorative items
Making décor items for your home that can be both decorative and functional is another way to apply reclaimed wood. The attractive characteristics of recycled wood can be accentuated and complemented by the incorporation of different shapes, colors, and patterns into your housewares. You can create simple but elegantly rendered picture frames and shelves in a variety of colors, patterns, and shapes. You can even take a slightly different approach and create eclectic pieces of furniture using painted pieces of reclaimed boards such as a lampshade. You can also make sturdy storage boxes, which can double as planters. When it comes to decorative items and reclaimed timber, the options are virtually unlimited.
Add a headboard to your bed
As much as it might be subtle, the simple addition of a recycled wood headboard to your bed effectively draws the beholder's eyes, which makes it the focal point of your bedroom while also adding a natural dimension. The resultant feeling significantly enhances the possibility of achieving total relaxation. Adding a natural dimension to your room is quite effective in the rural areas since the chosen wood reflects the outdoor tone. The type of wood to use is significantly affected by the existing palette.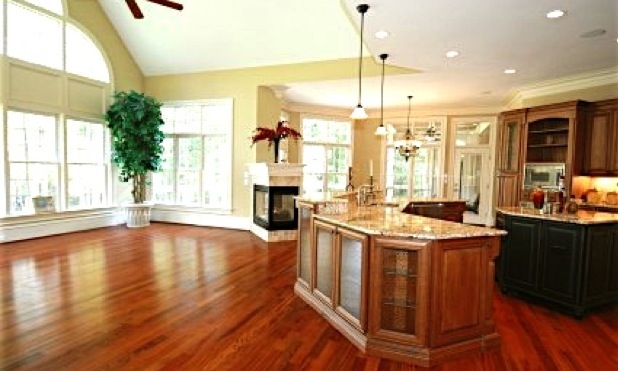 Create a sheltered Area doormat
By cutting the repurposed timber to lengths of 18 inches, drilling four ¼-inch holes evenly spaced on the side of every plank, stringing the rope through these holes and tying the boards together while allowing half an inch between each board and at every end, you can create an ideal doormat. However, such a doormat might only apply to sheltered areas since as you know, wood can easily be damaged by the elements.
Create furniture
Recycled timber, with its natural, lived-in feel is a perfect material for making all sorts of furniture, and it also provides unique and aesthetically valuable pieces. You can make a chair, a dining table, a dresser, or an outdoor cabinet. There are plenty of recycled wood pieces of furniture with a rustic finish available today, from which you can borrow some inspiration.
Bio: Guest post written by MacDonald Hardwoods. For over 30 years, MacWoods has been a long standing resource for prefinished wood flooring along with hardwood flooring and installation services. Macwoods also offers hardwood installation classes in Denver, CO area.