Have you noticed that outside rather than inside, is where the latest home renovations are taking place these days? Outdoor patios are now receiving huge attention from homeowners. Patios which were once regarded as seasonal retreat are fast becoming a must-have for most homeowners.
N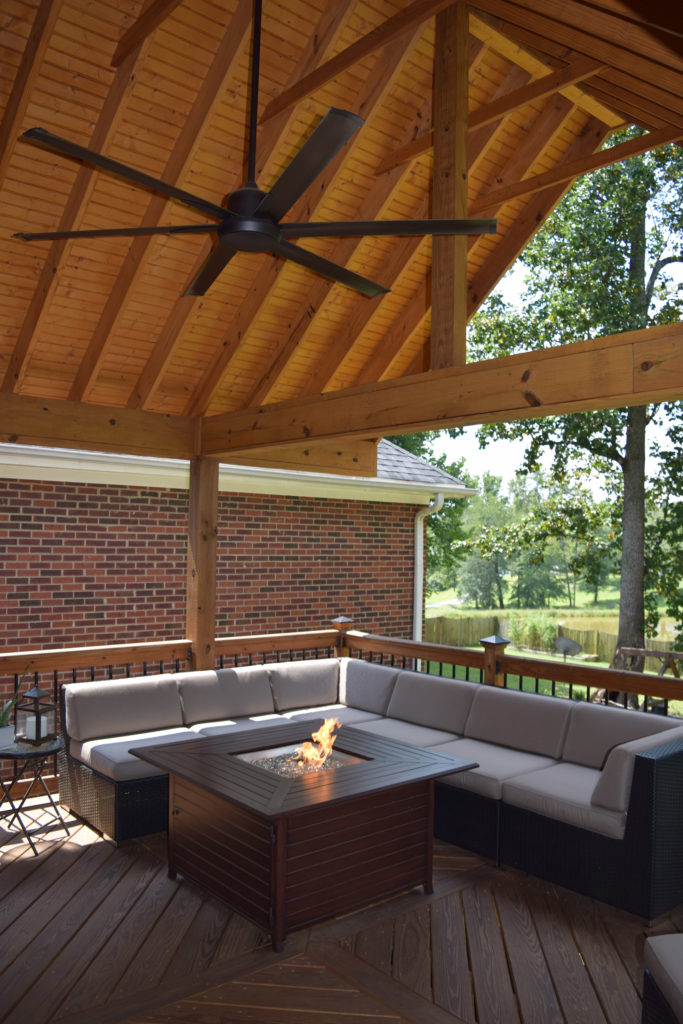 ow, come to think of it. What could be better than cooling off, sitting on your outdoor patio with a cold glass of juice on a warm summer day? Aha! You're getting the point, aren't you? The fact that you can even install one or two outdoor ceiling fans in that huge patio of yours for more airflow makes the patio experience all the more fun.
However, before purchasing a patio ceiling fan for installation in your outside living space, you need to consider one of these factors. For instance, building safety codes demand that the exterior ceiling fan you wish to install in your living space is supported by UL rating for that particular location. As far as outdoor ceiling fans are concerned, there are basically two types to select from. Trust me, it will be nice for you to acquaint yourself with the difference between both before deciding on which to install in your outdoor living space, be it a huge patio or a small one.
–
–
–
–
–
–
So, what exactly is the difference?
Damp-rated
These are the perfect UL approved outdoor ceiling fans for humid locations with covered living spaces. However, these fans mustn't come in direct contact with rain or snow. With the influence of wind, even outdoor fans installed in covered porch can still come in contact with rain. It is therefore paramount that these fans be installed in covered living spaces; a good example is an covered deck or roofed patio area. A damp-rated outdoor fan comes with a motor that has non-corrosive covering and a protected interior wiring. The following are some examples of where damp rated outdoor ceiling fans can be installed – Screened sunroom or porch, a gazebo where direct rainfall cannot wet the fan, etc. They can also be used or installed in indoor spaces that are very humid such as bathrooms with showers and laundry rooms.
Wet-rated
These outdoor ceiling fans are designed specifically to withstand or resist the damaging effect of wind, rain, and snow. Wet-rated fans are the best choice to go with if you know your fan will be exposed to any form of wetness or moisture at the location of installation such as areas that are only partially covered. A pergola is a good example of where a wet location model should be used. The blades of most wet rated outdoor ceiling fans are made with ABS plastic, so they don't get damaged even when they are unprotected from the weather. In fact, those that are wet-rated can be washed off with a garden hose. Also, the wirings of wet-rated fans are designed specifically to not short. Here are some examples of where wet-rated outdoor ceiling fans can be installed – completely open or partially covered living spaces, porch, and patio. You can even install one from beam structure above your outdoorsy living area, even when there is no roof keeping the rain out. Also, just as with a damp-rated fan, any location in humid climates whether indoor or outdoor is also a good reason to purchase a wet-rated model.
Let's now run through some of the reasons why outdoor ceiling fans are a must for your patio or outdoor living space.
1. Insect or bug control
They serve as natural means of pest control.
In addition to more airflow which they offer to your outdoor space by downdraft, an outdoor ceiling fan will make your living space a difficult area for insects to fly through. With an outdoor ceiling fan installed above your outside living space, you will be relieved of the stress of having to swat insects constantly while dining.
2. Lighting
Many outdoor ceiling fans come with the added luxury of lighting. You surely will be in need of light supply on your patio when the sun begins to disappear from the surface of the sky. Even the models that do not include lights, most of them will still have the option of of adding a light kit to it.
3. Some are Customizable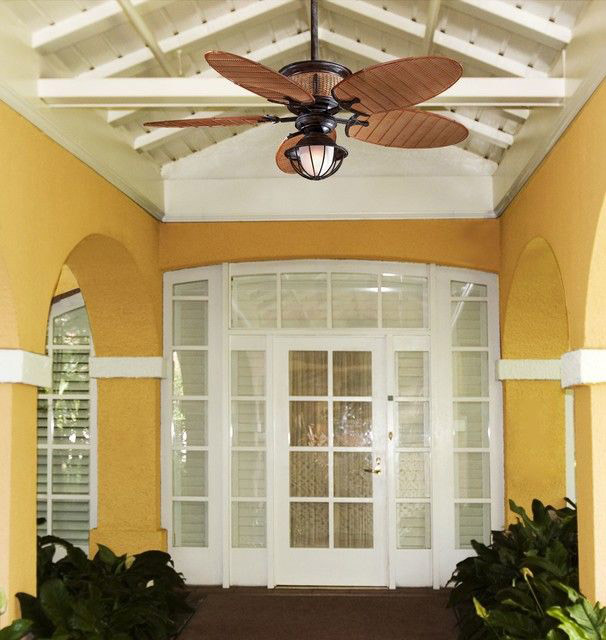 Wouldn't it be great if you could order an outdoor ceiling fan for your outdoor space or patio just the way you wanted it?
With many fans at Modern Fan Outlet you can select the motor style of your choice, select the color of the motor housing, as well as size and blade shape and finish. For example, just go to their website and in the search bar type "Raindance" and press enter. You'll then see a slew of fans come that many look different. You will be surprised when you learn they are all the same basic wet-rate ceiling fan, and you are only seeing different colors and custom designed blade combinations installed on it. The fact that you can have your fan customized makes it more tempting to order one designed to match your own personal tastes.
4. More airflow
Clearly, the number one reason why you would want to install an outdoor ceiling fan above your deck, porch, or pool area is for more airflow, especially during hot summer days. Most people prefer to cover their patios with a roof of some sort to keep their area in the shade. While the shade helps, nothing helps more than having a ceiling fan with a powerful breeze to provide a wind-chill factor for a much needed cooling effect. Therefore, installing an outdoor ceiling fan in your patio can be considered a compulsory necessity.
5. They are built to withstand sun, wind, humidity, and cold
You needn't worry about them being damaged by humidity, sun, cold and wind because they are designed to withstand such weather conditions. Outdoor ceiling fans are definitely a must-have for your patio because they are built with powder-coated paint finishes and galvanized steel that help to stop corrosion and rust.
With the aforementioned benefits of outdoor ceiling fans, you can be forgiven if you get a impulse to go shopping online already with the view of purchasing one for your living space closest to nature. You can check out Modern Fan Outlet for the very best designs and selections available. And if you need help, there are actually true experts that specialize only in ceiling fans there to assist you with any questions you may need answered before making your final decision.